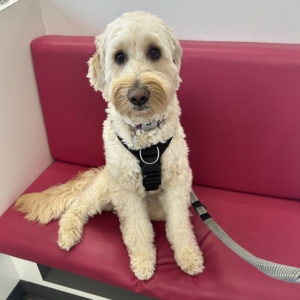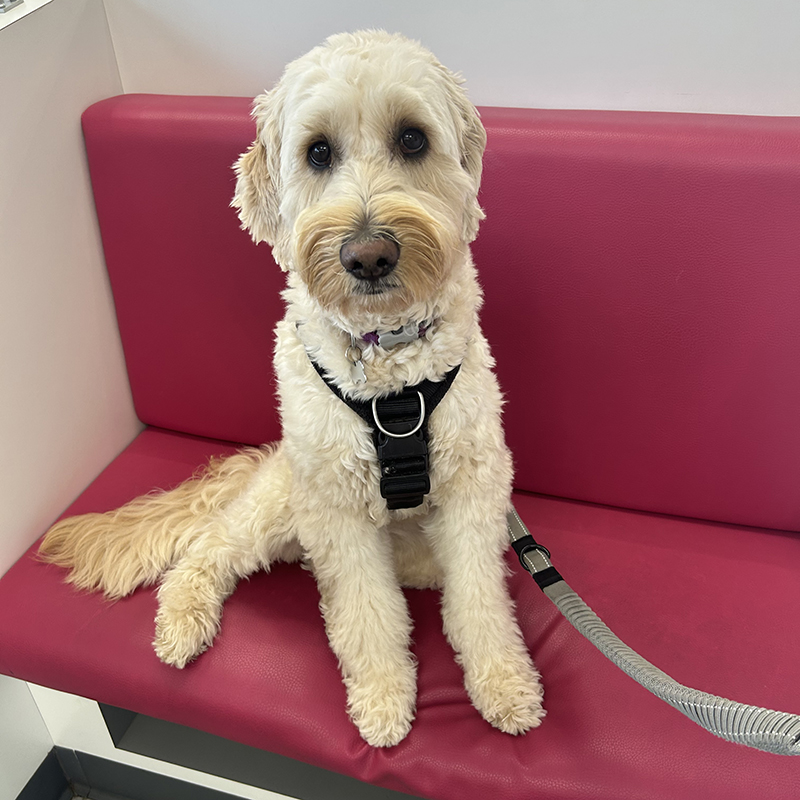 We moved Lola to Harrison's when she was 1, after having several very horrible experiences at her previous vets which left us with a very anxious and stressed puppy, who wouldn't let any one touch her out of fear. We weren't happy with the level of care, or being told that are very anxious stressed puppy would need to be muzzled for vet visits going forward. After hearing this I cancelled my year plan straight away and knew I wouldn't be sending Lola back there. 
After doing a lot of research I came across Harrison Family vets, and loved the fact that it wasn't part of a big chain. 
From the very first phone call I knew I was going to like this practice, as when I explained everything we had been through, I was told about the cuddle sessions offered by Harrison's, which would be nothing more than getting to know the practice and being fed lots of treats. 
When I took Lola along to her first cuddle session we were both very nervous. On arrival we were greeted by Hayley in front of house. Hayley seemed to get Lola straight away, she didn't try and touch her (which most people do, thinking they know best) but she gave Lola the time to sniff about, try out the scales. Lola happily explored the practice and as it was a quiet time, she got to have a good look around, even having a cheeky look in the office. 
After lots of exploring it was time for our appointment with Yvette, and this was when I knew we were going to get on well here. Yvette came out and sat on the reception floor with Lola with lots of delicious treats that even a nervous Lola couldn't turn down, this helped Lola relax as it was the first time, she wasn't being put over her threshold, and being rushed to do things she didn't understand. (Picture attached for day one) before we left Lola was relaxed enough to lay on the floor but not quite relaxed enough to be touched but that was fine. 
Anyways, fast forward two years and it is safe to say that Lola loves going to the vets. From being told at home she is going to see Hayley and Yvette, to arriving my back at home her tail does not stop wagging. Yvette has put in so much time with Lola which has built her trust, in the process. Yvette taught Lola how to do high five, when she wasn't quite ready to do paw, she has taught her that she has the best treats, and all the time in the world to make her feel better about physically and emotionally, however the most important thing that Lola has learnt is that going to the vets isn't scary. Lola has even had to do a little stay with Yvette at the practice when she had a sore ear and was happy thought out the time she was there.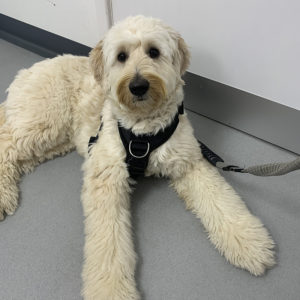 Still to this day Lola has her favourite people Hayley front of house and of course Yvette but this does not take away from the other staff members. Lola has just found her people now and won't see anyone else and finds it hard to share Yvette when waiting for her appointment and makes this known by telling Yvette (barking) that it is her turn, even when it is not. 
I cannot thank Yvette, Hayley and all the team at Harrison's family vets enough for everything they have done for us. No problem is too small and they always make sure that you are happy with the treatment plan and information given. 
A huge congratulation to them all for becoming a Fear Free family, which I can 100 precent confirm they are.