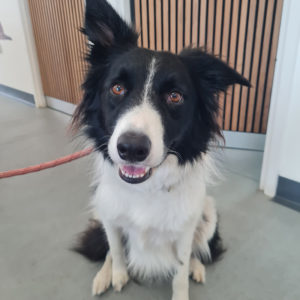 We came to Harrison Family Vets when they first opened, as I was not happy with the way the previous vets were treating Bailey – who we had as a 2 year old rescue from January 2021 leading up to a traumatic vaccination.
He is a very nervous 5 year old border collie, who has to see the same person at least 3 times before he will go anywhere near them.
At previous vets he was seen by someone different each time which didn't work for him at all.
I asked at Harrisons when they first opened if I could just sit in the reception every so often for him to get used to the environment, we went in at lunchtime when no one was in for appointments.
They were very helpful, Hayley is one of his best friends now, as she always gave him space, let him go to her when he was ready, but encouraged him too, and slowly he went to say hello.
He now races to the office to see Hayley!
When we first started going, he had his tail between his legs with ears back and very nervous of any different noises, he didn't want to go into the consulting room as an enclosed space, showed teeth when people got too close, there was no chance of doing any check-ups, injections were definitely a nono and even when trying to handle him around the collar, he swung round.
We were trying a muzzle, but that made him more nervous, and difficult to get on him
Since we have been going, we went from seeing Hayley in reception once a fortnight until he was happier in himself in the environment, going in with a waggy tail and happy to stay there.
Then we started seeing Yvette once a fortnight for socialising in the consulting room, to joining the wellness plan, he managed to have his booster injection after working towards doing it for 4 months, we are still doing once a fortnight working towards toe nail clipping and getting on with Helly.
He has been going in every time as a happy dog, takes over the reception and wants attention.
He has been made very welcome from all the staff at the practice and I would recommend anyone to give Harrisons Family Vets, in Woodley, a go.
He now goes straight in consulting rooms, Yvette can now use a stethoscope on him.
Thank you Harrison's, from Bailey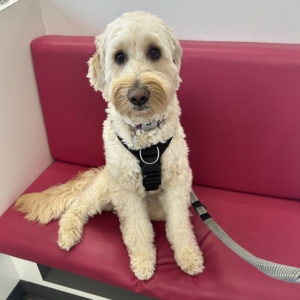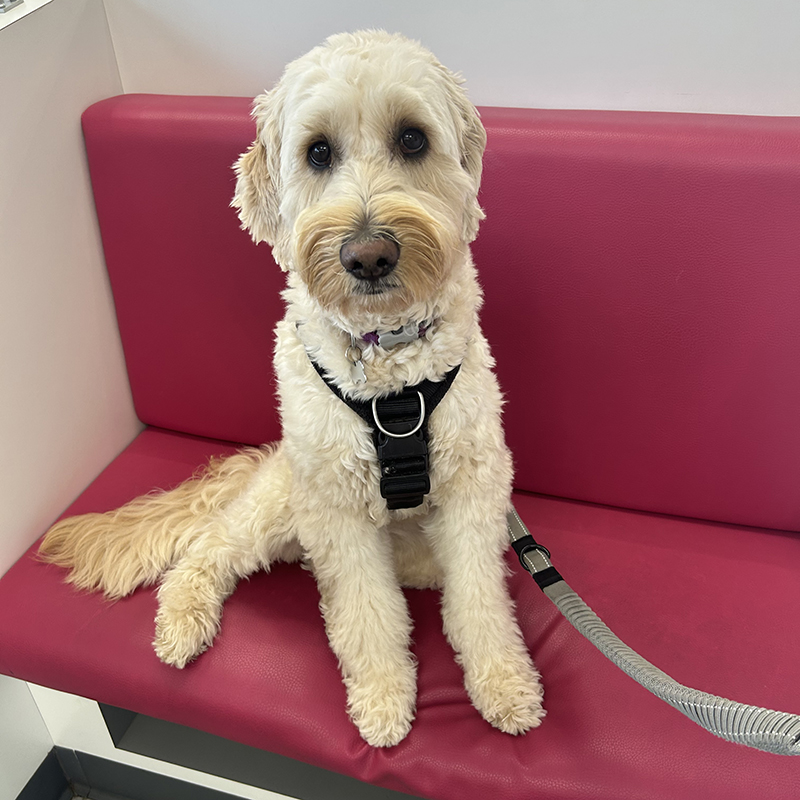 We moved Lola to Harrison's when she was 1, after having several very horrible experiences at her previous vets which left us with a very anxious and stressed puppy, who wouldn't let any one touch her out of fear. We weren't happy with the level of care, or being told that are very anxious stressed puppy would need to be muzzled for vet visits going forward. After hearing this I cancelled my year plan straight away and knew I wouldn't be sending Lola back there. 
After doing a lot of research I came across Harrison Family vets, and loved the fact that it wasn't part of a big chain. 
From the very first phone call I knew I was going to like this practice, as when I explained everything we had been through, I was told about the cuddle sessions offered by Harrison's, which would be nothing more than getting to know the practice and being fed lots of treats. 
When I took Lola along to her first cuddle session we were both very nervous. On arrival we were greeted by Hayley in front of house. Hayley seemed to get Lola straight away, she didn't try and touch her (which most people do, thinking they know best) but she gave Lola the time to sniff about, try out the scales. Lola happily explored the practice and as it was a quiet time, she got to have a good look around, even having a cheeky look in the office. 
After lots of exploring it was time for our appointment with Yvette, and this was when I knew we were going to get on well here. Yvette came out and sat on the reception floor with Lola with lots of delicious treats that even a nervous Lola couldn't turn down, this helped Lola relax as it was the first time, she wasn't being put over her threshold, and being rushed to do things she didn't understand. (Picture attached for day one) before we left Lola was relaxed enough to lay on the floor but not quite relaxed enough to be touched but that was fine. 
Anyways, fast forward two years and it is safe to say that Lola loves going to the vets. From being told at home she is going to see Hayley and Yvette, to arriving my back at home her tail does not stop wagging. Yvette has put in so much time with Lola which has built her trust, in the process. Yvette taught Lola how to do high five, when she wasn't quite ready to do paw, she has taught her that she has the best treats, and all the time in the world to make her feel better about physically and emotionally, however the most important thing that Lola has learnt is that going to the vets isn't scary. Lola has even had to do a little stay with Yvette at the practice when she had a sore ear and was happy thought out the time she was there.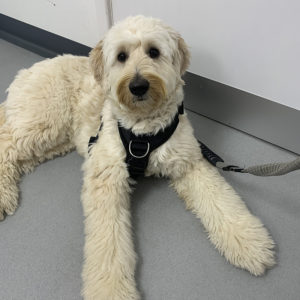 Still to this day Lola has her favourite people Hayley front of house and of course Yvette but this does not take away from the other staff members. Lola has just found her people now and won't see anyone else and finds it hard to share Yvette when waiting for her appointment and makes this known by telling Yvette (barking) that it is her turn, even when it is not. 
I cannot thank Yvette, Hayley and all the team at Harrison's family vets enough for everything they have done for us. No problem is too small and they always make sure that you are happy with the treatment plan and information given. 
A huge congratulation to them all for becoming a Fear Free family, which I can 100 precent confirm they are.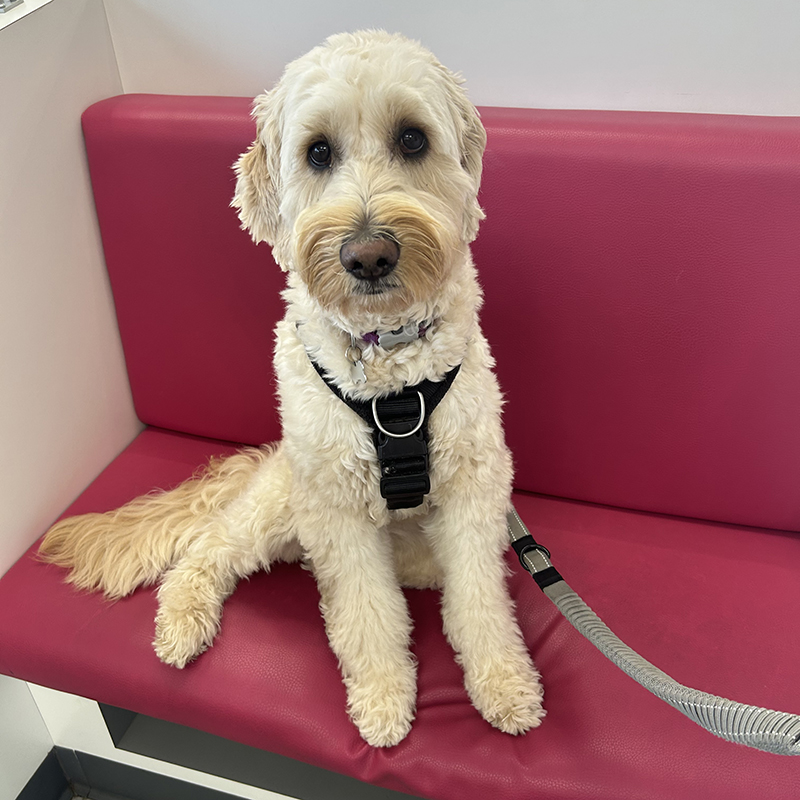 Fantastic practice and great service I can definitely recommend this vets
Vicki is absolutely amazing with my little Matilda!! Could not thank her enough for these past couple of weeks. Matilda loves her too as she gets treats and lots of fuss ☺️, which is absolutely fantastic as she's not as nervous with these vets, now she actually gets excited when she see's them 🥰
Thankyou so much for looking after my girls Rosy and Daisy this morning, to say I was anxious was an understatement, I can see now that I had absolutely no need at all, I sat crying like a baby, your such a lovely caring team ❤️ I'm so glad that I registered my girls with you, Ximo, you are such a star, thank you for coming to have a talk to me and putting my mind at rest❤️ I can tell you have a genuine love of our fur babies, and that's all I need to know, I know our girls will be safe in your hands, what a fantastic caring team you are, you are all absolute Stars ⭐️⭐️⭐️ love and hugs from us all ❤️❤️🩷🩷 Thankyou X
Extremely helpful and caring staff and excellent service. Love the fear free concept and very clean and tidy surgery. I would like to say a big thank you for the very kind and lovely service that we received 😊 Would recommend to anyone!
Never had such a positive, friendly and insightful visit to a vets in my life. My two pups had first jabs and were pointed in the direction of the food which went down a treat, the plan was the best investment I made and I'm saving a lot of money. Nice to know there is still some vets that care…
"I visited the surgery today with my puppy Rosie following a bad experience at another vet. I love the layout and the personal booths especially for an excitable puppy, the vet was lovely really kind and caring. it was clear they love their job. Would highly recommend. They're pet plan is really good value as well."
"Lovely friendly helpful staff, Dan was super with my two cats who are quite nervy. Glad to have found this practice"
Good evening. I brought one of my dogs to your Reading branch this evening for his annual vaccinations. I was nervous having not used your practices previously. The whole visit was just super from easy parking, clean and spacious waiting area, friendly and professional reception staff ready to greet us, a vet who could not have been more patient or skilled with handling Kevin (my cockapoo) all the way through to leaving having paid at the end of the visit. I just wanted to say thank you for a wonderful service and please do pass on my thanks to the staff who were there this evening because I feel they deserve the recognition. It's so easy to complain when things go wrong and so rarely do people acknowledge when something positive happens. Thank you.
I just wanted to quickly say thank you again for the excellent service over the past week and half.  Despite our poor guinea pig not surviving the experience, I am very happy at the level of care he received.
The fact that you always answer the phone and have always been able to see us when needed is hugely reassuring and a vastly different experience from the vet we moved away from two weeks ago.  Everybody we've interacted with at Harrison, from the people at reception to the nurses and vets, has been positive, empathetic, friendly and customer (and animal!)-focussed. Again, not something I was used to based on our previous experience.
I hope you are able to continue with this level of service as your customer base grows.
Today I took my 1 year Golden Doodle to Harrison's vets. After lots of bad vet experiences it is safe to say that our anxiety was running high, poor Lola with her fears, and me because there is nothing worse than seeing your fur baby terrified. Well I am very happy to say that all the staff at Harrison's vets were amazing from start to finish. Not only were they very patient with Lola but they were very clear and helpful when it came to Lola's health. I never thought for one second my puppy's tail would wag at the vets, and that she would choose to say hello, even if it was at a distance, to everyone.
A huge thank you again to all the staff members, and lovely people waiting to be seen, who helped Lola's first visit go so smoothly.
Merry Christmas, we will see you in the new year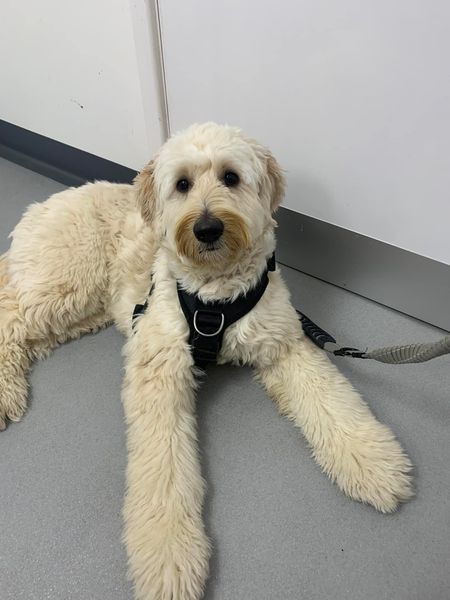 Just taken Tucker for his 1st check up. I truly cannot say how friendly, caring and truly professional Harrison's are. I can't recommend them enough.
How lovely to have a real independent vets in Woodley.
Happy dog and happy owner!
I was lucky enough to work with Ana Bonache as a vet nurse once, and I cannot emphasize enough how caring and such a good vet she is, you can be totally sure your pet will in the best hands when at this practice.
I took Ashanti, Lucy and Miakha today for their vaccinations and blood tests today. Lovely clinic, very friendly staff, and a very thorough checkup by the vet Anna. thoroughly recommend.
I took my two cats to Harrison's today and was very pleased with the friendly, helpful staff.
It was so clean and really welcoming too.
First time bringing in my beautiful rescued kittens and this vets is extraordinary and goes above and beyond for their patients. Thank you to Ana for being so understanding and wonderful, happy to be apart of the Harrison family
First time with my new puppy. The staff are so friendly and very knowledgeable and helpful so glad I found this vets.
Absolutely recommend Harrison's, the staff are amazing so friendly and professional. The monthly plan is absolutely amazing and so useful.
My puppy Buddy loves visiting and the attention he receives. The vets are very helpful, patient and friendly. Look forward to watching buddy grow with you guys! X