I just wanted to quickly say thank you again for the excellent service over the past week and half.  Despite our poor guinea pig not surviving the experience, I am very happy at the level of care he received.
The fact that you always answer the phone and have always been able to see us when needed is hugely reassuring and a vastly different experience from the vet we moved away from two weeks ago.  Everybody we've interacted with at Harrison, from the people at reception to the nurses and vets, has been positive, empathetic, friendly and customer (and animal!)-focussed. Again, not something I was used to based on our previous experience.
I hope you are able to continue with this level of service as your customer base grows.
Today I took my 1 year Golden Doodle to Harrison's vets. After lots of bad vet experiences it is safe to say that our anxiety was running high, poor Lola with her fears, and me because there is nothing worse than seeing your fur baby terrified. Well I am very happy to say that all the staff at Harrison's vets were amazing from start to finish. Not only were they very patient with Lola but they were very clear and helpful when it came to Lola's health. I never thought for one second my puppy's tail would wag at the vets, and that she would choose to say hello, even if it was at a distance, to everyone.
A huge thank you again to all the staff members, and lovely people waiting to be seen, who helped Lola's first visit go so smoothly.
Merry Christmas, we will see you in the new year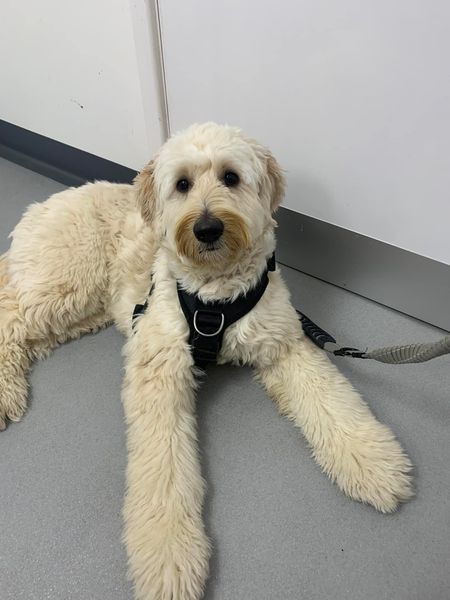 Just taken Tucker for his 1st check up. I truly cannot say how friendly, caring and truly professional Harrison's are. I can't recommend them enough.
How lovely to have a real independent vets in Woodley.
Happy dog and happy owner!
I was lucky enough to work with Ana Bonache as a vet nurse once, and I cannot emphasize enough how caring and such a good vet she is, you can be totally sure your pet will in the best hands when at this practice.
I took Ashanti, Lucy and Miakha today for their vaccinations and blood tests today. Lovely clinic, very friendly staff, and a very thorough checkup by the vet Anna. thoroughly recommend.
I took my two cats to Harrison's today and was very pleased with the friendly, helpful staff.
It was so clean and really welcoming too.
First time bringing in my beautiful rescued kittens and this vets is extraordinary and goes above and beyond for their patients. Thank you to Ana for being so understanding and wonderful, happy to be apart of the Harrison family
First time with my new puppy. The staff are so friendly and very knowledgeable and helpful so glad I found this vets.
Absolutely recommend Harrison's, the staff are amazing so friendly and professional. The monthly plan is absolutely amazing and so useful.
My puppy Buddy loves visiting and the attention he receives. The vets are very helpful, patient and friendly. Look forward to watching buddy grow with you guys! X