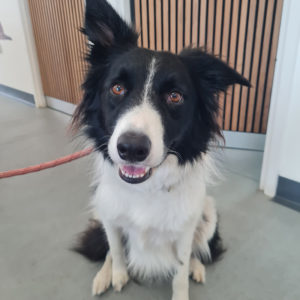 We came to Harrison Family Vets when they first opened, as I was not happy with the way the previous vets were treating Bailey – who we had as a 2 year old rescue from January 2021 leading up to a traumatic vaccination.
He is a very nervous 5 year old border collie, who has to see the same person at least 3 times before he will go anywhere near them.
At previous vets he was seen by someone different each time which didn't work for him at all.
I asked at Harrisons when they first opened if I could just sit in the reception every so often for him to get used to the environment, we went in at lunchtime when no one was in for appointments.
They were very helpful, Hayley is one of his best friends now, as she always gave him space, let him go to her when he was ready, but encouraged him too, and slowly he went to say hello.
He now races to the office to see Hayley!
When we first started going, he had his tail between his legs with ears back and very nervous of any different noises, he didn't want to go into the consulting room as an enclosed space, showed teeth when people got too close, there was no chance of doing any check-ups, injections were definitely a nono and even when trying to handle him around the collar, he swung round.
We were trying a muzzle, but that made him more nervous, and difficult to get on him
Since we have been going, we went from seeing Hayley in reception once a fortnight until he was happier in himself in the environment, going in with a waggy tail and happy to stay there.
Then we started seeing Yvette once a fortnight for socialising in the consulting room, to joining the wellness plan, he managed to have his booster injection after working towards doing it for 4 months, we are still doing once a fortnight working towards toe nail clipping and getting on with Helly.
He has been going in every time as a happy dog, takes over the reception and wants attention.
He has been made very welcome from all the staff at the practice and I would recommend anyone to give Harrisons Family Vets, in Woodley, a go.
He now goes straight in consulting rooms, Yvette can now use a stethoscope on him.
Thank you Harrison's, from Bailey